Best Exercises for Shoulder Muscles

If you are looking for the best exercises for shoulder treatment and prevention of injury then I have outlined some here for strong shoulder muscles.
I see people everyday who are working hard to strengthen the muscles in their arms and shoulders in hopes of not only having "Big Guns", but also in preventing injury and pain in the shoulder.
The best thing you can do for your body is to continue to strengthen your shoulder muscles as you age to prevent weakness resulting in pain later.
Listed below are a few of my favorite shoulder strengthening exercises:
Shoulder Abduction with Internal Rotation:

Helps to strengthen the important shoulder muscles of the rotator cuff.

Position:
Standing tall with 5-8 pound dumbells at your sides to start.
Movement:
Reach your arms out to your sides, just horizontal with the floor and rotate your palms down and back as far as you can.
Repeat 6-10 times holding for just a couple of seconds at the end range rotation.

Shoulder Abduction with External Rotation

This one is also good to keep the muscles of the rotator strong and healthy.

Position:
Standing Tall with 5-8 pound dumbbells at your side. Make sure not to sacrifice the weight for a full range of motion.

Movement:
Raise your arms out to the side horizontal with the floor and then rotate your palms up and back as far as you are able.
Hold for a couple of seconds at the end range and then lower and repeat for 6-10 repetitions.
Lying Scapular Retraction/Protraction: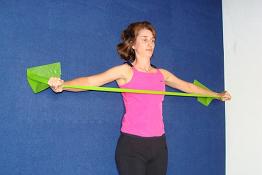 Purpose:
To stretch the muscles of the chest and anterior shoulder while strengthening the muscles of the middle back which stabilize the scapula.
Position:
Lying on your back holding a stretch band straight over your chest shoulder width apart with some tension on the band. Feel your shoulders blades wide on your back.
Movement:
Extend your arms out to the side away from your body as you draw your shoulder blades together in the back and pulling the band across your chest. Then slowly and with control release the band back to the starting position.
Repeat 8 – 10 times.
Find more shoulder exercises using the stretch band here.
Upper Back Exercises for Shoulder - Elbow Lift: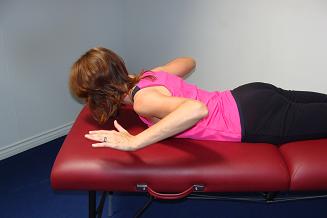 Position:
Lying face down on a mat with your hands at shoulder height and just outside of your ears, legs long and extended, and abdominal muscles pulled up and in.
Movement:
Lift your upper torso only keeping your feet anchored to the mat, raise your elbows higher and palms facing down with hands just outside of your ears, make sure to keep your nose pointed down at the floor to keep neck alignment.
Repeat up to 5 times trying to hold longer as you progress, only up to 20 seconds.
Find more free pages and information about how to exercise your shoulder muscles here.
Mar 21, 17 12:06 AM

Dear Jennifer, I was wondering if there is something that Pilates could do for a bunion. A friend sent me your youtube link, and it is really wonderful.

Jun 22, 16 02:08 PM

Pilates glute exercises to beef up your buns and end your back pain.

Jun 08, 16 02:28 PM

My favorite sciatic pain exercises to stop and avoid it for good! Balance your muscles, fix your posture, and strengthen the legs to help with back pain.