Pilates Business in Green Valley Arizona

We've Moved Again... Just 5 Doors Up!

Come in and check out the SERENITY PILATES BUSINESS in Green Valley, Arizona.
                     125 W. Calle de las Tiendas Suite 133-A,
                                      520-440-1871
Currently open in the Marketplace Mall near Manuel's restaurant and the Computer and Barbershop.
We have 2400sq. foot of Space and new equipment partnering with the Pilates Studio of Green Valley.  
We now offer over 30 different Equipment and mat classes weekly to accommodate almost any busy schedule.
-Cardio Jumpboard Reformer classes
-OsteoPilates Classes
-Pilates for Golfers
-Advanced equipment workouts with Jen
-TYE4 Bone Up Classes for those who have Osteoporosis or want to avoid it.
-TRX Body Suspension Training.....and more!

The TRX Suspension Trainer is a performance training tool that leverages gravity and the user's body weight to complete hundreds of exercises in a high intensity interval type workout.
Find out how Pilates Exercise can improve your attitude and life!
IDEA Health & Fitness Association
With over 15 years experience in Pilates focusing on musculoskeletal conditions, balance training, golf, tennis, cycling, and hiking.
Whatever you are doing, Pilates can help you do it better and enjoy life to the fullest.
---
---
Heidi Tompkins, PhysicalMind Certified Mat and Equipment
520-429-6568
Monday Pilates Fusion at 9 am,
Tuesday 4pm/ Friday 1pm Dynamic Stretch and Strength Reformer Class.
Wednesday Beginner Reformer classes at 2:30 and 4:00.
---
Lysa Creason, PhysicalMind Certified    520-784-8072
Stress and Weight Management, Whole body conditioning, TRX and Cardio Jump.

Cardio-Jumpboard on the Reformers offered daily at 8 and 8:30 am.
TRX Suspension training offered Friday morning at 10 am and Thursday new classes starting.
Wednesday beginner classes offered.

Circuit training on the Pilates equipment and allegro classes offered on Monday's and Thursday's at 4 and 5 pm.
---
Cathryn Blodgett, PMA certified, Buff Bones, Fletcher Towel Work  520-490-5058
Buff Bones offered on Tuesday's at 11:15
Stretch class and Reformer on Saturday mornings
Advanced Reformer/ Mat combo's on Monday and Tuesday's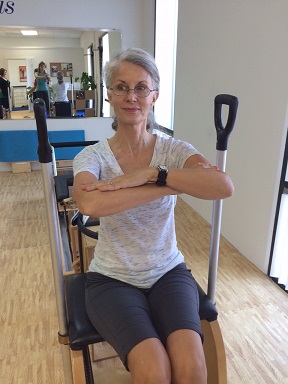 ---

The Serenity Pilates Business


One of my favorite smaller pieces of equipment assists with various foot conditions and helps to improve balance. The Foot Corrector helps with strengthening and stretching the muscles of the foot and ankle while improving various conditions in the feet leading to knee and hip pain.
This is also a great tool that has helped many clients stay steady on their feet showing great improvements in balance.
Check out some of my favorite foot exercises here for better balance.

All of the Pilates equipment utilizes spring tension, which is low impact on the joints while still strengthening and stretching all the muscle groups inside and out.
We have had great success using the Pilates system on people with arthritis, osteoporosis, knee, hip, and shoulder bursitis and joint replacements, fibromyalgia, spinal stenosis, degeneration of the spine, and other musculoskeletal conditions.
Find out more about the Pilates equipment and how to use it here.

Just Check out what some of our Pilates Students are saying about their Pilates experience:

Jackie and Gail using the Tye4 for Better Balance and Postural Strength.
"My Pilates workouts have kept my back pain and sciatica from creeping back.
Jennifer keeps us moving and it is fun to experiment with all the equipment.  Jennifer's knowledge of pyhsical therapy and Pilates has kept me from compromising my lifestyle." 

-Jackie Smith

---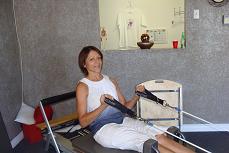 I love Pilates because it helps keep me looking young and firm!
-Norma
---
When I started Pilates, I can honestly say I was a mess. Now I am a more healthy mess. You really can work your way back to health.
I really believe my recovery after cancer was due to my years of weekly exercise.
The temptation to do nothing was not an option, once Jennifer starts on you - she never quits.
Thank Heaven!
-Will Ehinger
---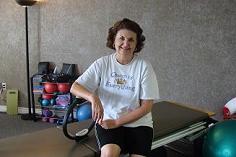 I have been doing Pilates Mat and Equipment classes for over 4 years now and just love it!
The mat classes are fun and Heidi really personalizes my Reformer sessions. I notice my clothes fit better, posture has improved, and blood pressure is lower.
-Vickie Roche
---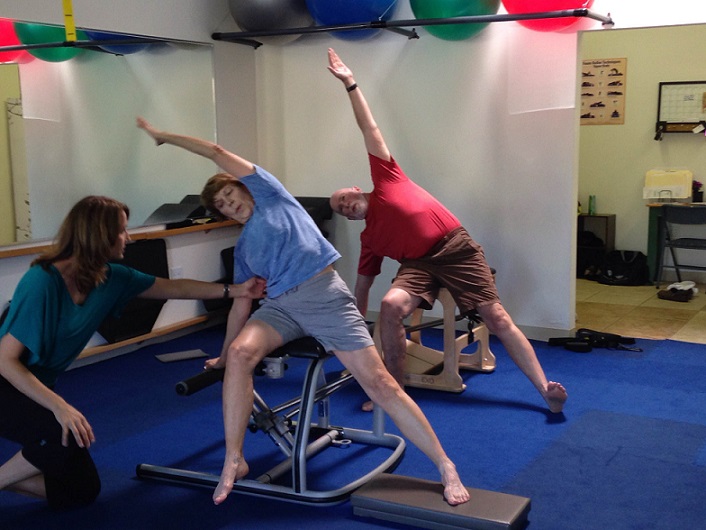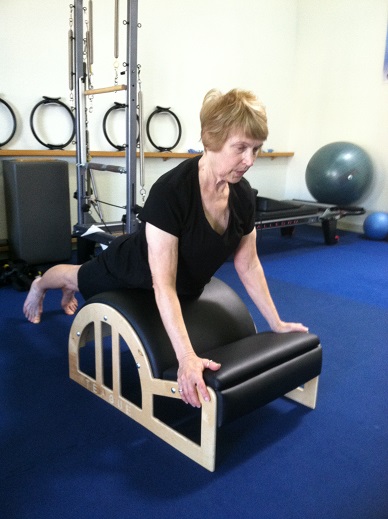 "My Pilates experience, with Jennifer's coaching, has improved my flexibility, strength and balance.  
I am now able to enjoy more activities, free from pain, because of practicing Pilates!"     -Karen Soper
Get started today with action and the newly revised Pilates Ebook detailing all of the classic mat exercises.
---
Check us out today at...
Serenity Pilates Business:
Where the Focus is on You!


If you are in Southern Arizona and looking for a certified Pilates Business and Instructor to work with you in-person you can contact me by email
or by phone: 520-440-1871.
Call today to set up an individual appointment or to find out our current class offerings.
We have group equipment and mat class offerings most every day including Saturday mornings.

Prices per half hour are $35 and $70 per hour with a discount when you purchase a series.  $25/ hour for equipment classes.

Leave Pilates business and find more great articles and Pilates information right here.
---
Sam Stomach says Hello!
Check out the Pilates program for eating healthy here.
Save 20% with the code: JA520 at checkout.
---
Mar 21, 17 12:06 AM

Dear Jennifer, I was wondering if there is something that Pilates could do for a bunion. A friend sent me your youtube link, and it is really wonderful.

Jun 22, 16 02:08 PM

Pilates glute exercises to beef up your buns and end your back pain.

Jun 08, 16 02:28 PM

My favorite sciatic pain exercises to stop and avoid it for good! Balance your muscles, fix your posture, and strengthen the legs to help with back pain.