Pilates Exercise Examples
for Your Body!

Some of the many Pilates exercise examples compiled for you in the newly revised Pilates ebook can be found here.
Ab Exercise Pilates: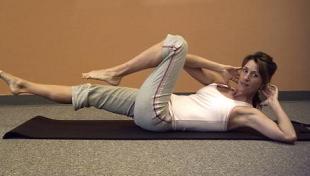 Crisscross
– This is one of the best Pilates exercise examples to work the deep transverse abdominals and oblique muscles that cross the waist.
The Pilates Crisscross is a very challenging exercise to do correctly and for many repetitions.
Your goal with this exercise should be to perform it slowly holding at the end of each cross move expelling all of your breath at the end points.
See a picture of the crisscross and a detailed description by going here.
Back Exercise Pilates: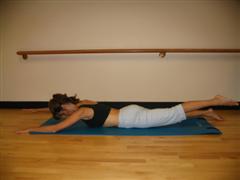 Swimming -
This is one of the best Pilates exercise examples to work the long muscles of the back while learning to strengthening and stabilizing the core muscles of your torso.
Your goal for this back exercise should be to keep your torso as still as possible as you extend the arms and legs.
Lengthen or imagine reaching the fingertips and toes away from your core.
See a picture and detailed description of this swimming exercise by going here.
Arm Exercise Pilates:
Leg Pull Back Support -
This is one of the Pilates exercise examples that has not been highlighted much here.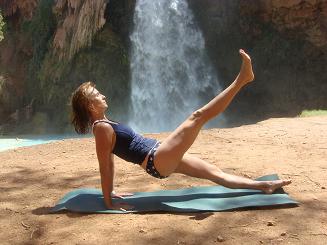 I, and my clients can really feel this one working the triceps or back of the upper arms when we perform it.
Position: Start sitting up on a mat with your legs extended in front of you and hands behind you to hold you upright. Point your fingers toward your bottom if it's comfortable for your wrists.
Action 1: For starters just press into your hands lifting your chest to the ceiling and just feel a nice stretch in the upper back and some work in the backs of your arms.
Action 2: When you are strong enough inhale to press into your hands then exhale to lift your bottom off the mat.
Your hips lift up to the ceiling so your body is in a long straight line like a plank. You should really feel the work in your arms now.
Action 3: The last step to this exercise once you are up in your plank position back support is to add the leg pull.
While up in the plank position extend one leg at a time off the floor without sinking your hips down as you lift.
If you are sinking into the opposite hip then you are not quite ready for this last part yet.
Neck Exercise Pilates: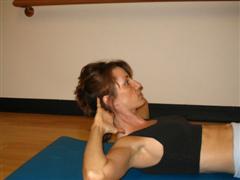 Head Float/Head Nod –
This is one of the principles of Pilates and is highlighted as such in the Pilates ebook.
It is very important to learn how to lift the head by using the abdominal muscles so you do not strain your neck.
If you have cervical fusions or other neck issues then it may not be recommended for you to raise your head into the float at all.
Use a pillow to support your neck if this is the case. You can still get an effective workout doing Pilates with your head down.
Breathing Exercise Pilates: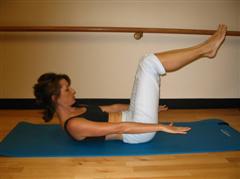 Hundreds
– The Pilates Hundred is a warm-up exercise, but also one of the most difficult exercises to do correctly and without straining.
I have highlighted it as one of the exercise of the month and break it down into 3 levels of progression for you to gradually and safely progress to the advanced level.
Leave Pilates exercise examples and see these and many more in the new revised Pilates Ebook.
Apr 23, 20 06:20 PM

It's 2 yrs.post op since I had total knee replacement in both knees. In order for them to last it's recommended that you lift not more than 25 lbs. Pilates

Aug 11, 17 12:29 AM

Dear Jennifer, I just wanted to reach out and thank you for dramatically improving and changing my life. About a year ago, I woke up in debilitating

Jul 12, 17 06:44 PM

Hi, I had a total right hip replacement 8 months ago; I rehabbed really quickly, although I was also (and still am) dealing with L4 spondylolisthesis.