Ball Exercise Tip for You!

Who doesn't want a ball exercise tip that can challenge your current Pilates exercises as well as your balance and core strength?
My clients love a new challenge and one of the most fun and challenging workouts is on the exercise ball.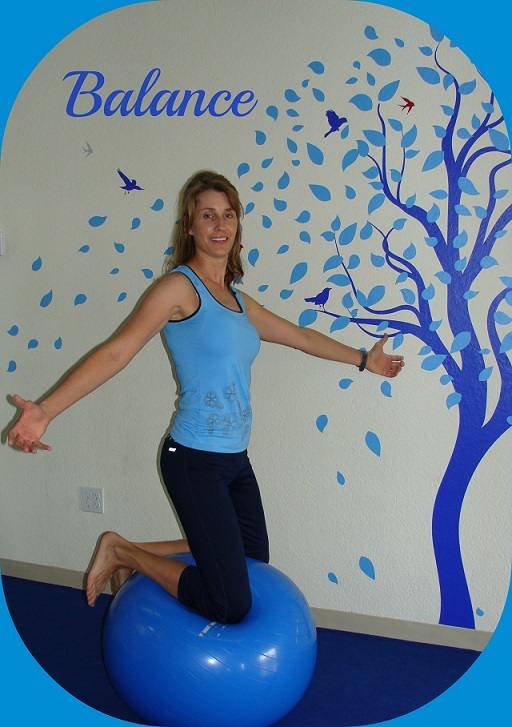 I might have a smile on my face here, but my whole body is quivering inside to keep my balance and keep me from flying off this ball!

Whether you are balancing on top of your knees, feet, tummy, or back the exercise ball if both fun and challenging.
TIP #1: Using Pilates Principle's!
Pilates with your ball is a great exercise ball back program.
Working with the ball and using your Pilates Principles teaches each individual how to activate the deep core muscles to help stabilize  and protect your back while working your abdominal and back muscles simultaneously.
Find out more about Pilates exercise ball workouts in the articles below.
Pilates Exercise Ball Routines in just 35 minutes!
TIP #2: How-To's for Beginners!
Maybe you just got your ball and want to learn some basics about how to use your exercise ball.
How do you pump it up, how firm, how soft should it be?
What size ball for your height?
Then...what exercises can you do?
Check out these great articles for beginners just getting started with an exercise ball.
Learn how to Use your Exercise Ball properly!
BALL EXERCISE TIP #3: Exercise Ball Benefits!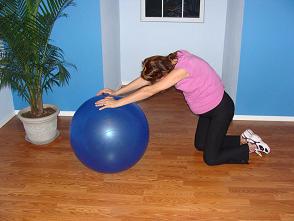 Find out the many benefits from a stronger midsection to improved balance, of an exercise ball workout and get a great looking ball too!
8 Benefits of an Exercise Ball Workout
Tighten your buns with an exercise ball!
And...This one really helps with the SI Joint pain you may feel during and after pregnancy.
Exercise Ball Workout During Pregnancy
TIP #4: Improve your Game!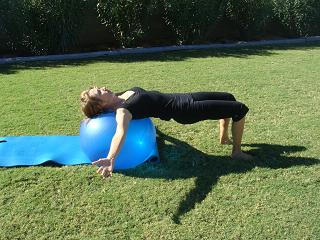 A great ball exercise tip for golfers, tennis players, hikers, bikers, and just about anybody that wants to increase their core strength and improve their sport specific skills can be found in these articles.
Pilates Core Ball Workout: Sport Specifics

TIP #5: Challenge yourself! Check out these latest exercise ball tips for a variety of intermediate and advanced exercises you can learn to perform on your exercise ball.
Leave Ball Exercise Tip and find out more about how Pilates exercises can benefit you.
Apr 23, 20 06:20 PM

It's 2 yrs.post op since I had total knee replacement in both knees. In order for them to last it's recommended that you lift not more than 25 lbs. Pilates

Aug 11, 17 12:29 AM

Dear Jennifer, I just wanted to reach out and thank you for dramatically improving and changing my life. About a year ago, I woke up in debilitating

Jul 12, 17 06:44 PM

Hi, I had a total right hip replacement 8 months ago; I rehabbed really quickly, although I was also (and still am) dealing with L4 spondylolisthesis.