Best Exercise Ball Workout:
Pilates Core Ball Workout Challenge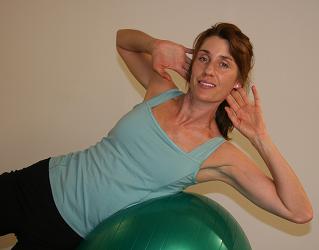 The best exercise ball workout doesn't have to be a long and tedious affair to get the best results for you.
I have developed a Pilates-based workout with the exercise ball that has been tested for years on my own students.
Top 5 Reasons to do the Best Exercise Ball Workout Challenge:
1. Boredom
If you are getting tired of counting reps, doing 10 more sit-ups, 10 more push-ups and not seeing any results then it's time to spice up your routine. The Pilates Core Ball Workout will keep you twisting, bending, flexing, and extending for over 30 minutes.
This workout is a sure way to get you from "bored" stiff to "board" hard abs.
What could be less boring than seeing definite results and feeling better after just a few workouts?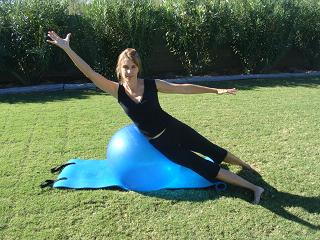 2. Challenge
The challenge of this Pilates ball video workout comes from the added instability of using an exercise ball while doing the classic Pilates moves.
The best exercise ball for this type of workout is a 55 cm ball. Larger balls are more difficult to work with when doing a Pilates based workout such as this.
This is one of the best exercise ball videos in that it includes many variations on the already difficult Pilates moves such as the leg circles, roll-up, rolling, and the double leg stretch to name a few.
3. Strength
The strength element of this workout comes from manipulating the ball doing exercises ball pushups and the jackknife while trying to balance your core body on the ball.
Check out this article and video description of the Stability Ball Pushup to see how much fun you can really have on the exercise ball!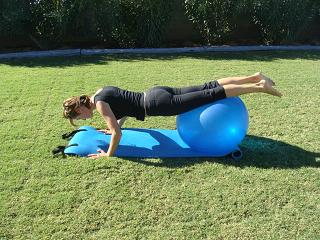 You will find strength in your core you didn't know you had while trying to stay balanced in a side position doing side kicks and oblique work on the core exercise ball.
Trying many of these exercises in a sitting, lying, and side bending position on the ball develops your strength from the inside out. You will feel great on the inside and look great on the outside!
4. Fun
The Pilates Core Ball Workout sometimes feels like more fun than most workouts.
One of the best things about the ball is its shape and texture. Light and filled with air, it provides a comfortable but firm surface that uniquely supports you in varying positions in space like the jackknife move shown here.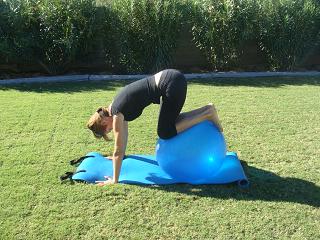 Exercising on the ball feels like reconnecting with childhood. My students agree that the ball definitely adds an element of play and variety to their mat workout class.
It has a playful component that takes your mind off the work at hand and promotes better concentration on the task at hand.
When your mind is focusing on just trying to stay on the ball, or not lose it when you are lying that you forget how much work you are really doing.
5. Energizing
Why this is one of the best exercise ball workouts is the energy you feel after doing it that you don't feel doing others. It's energizing due to the breath work and flow of the movements. It stretches the muscles into long lean lines while strengthening them.
Pilates exercise in any form prompts the blood to flow more openly throughout the body. This increase in circulation helps to energize the cells and allows for deeper breathing and better concentration.
Click here to buy this brand new Pilates Ball Video DVD and rev up your workout!
Testimonials
"The results working with the Pilates Core Ball really are amazing! The resistance and unstableness of the ball works on better alignment, isolation of muscles, torso strength, and training the deep abdominal muscles. This is something I recommend to everyone."
-- Kim McGuire
"Through my Pilates Core Ball Workouts I have better posture and balance. Exercising on the ball works all my muscles simultaneously and has improved my flexibility. I also notice increased energy and endurance to do my day to day activities. This is really the best exercise ball workout I have ever done."
-- Sandy Rudich
"Pilates, especially the ball workout has improved my balance and joint pain. I feel stronger and more graceful when I move."
-- Bill Tyndall
Jennifer's ball exercise class is both fun and challenging. As a former aerobics instructor, I appreciate Jennifer's meticulous cueing, which insures that each student gets the maximum benefit from the exercises. I always look forward to her classes. She is fun and supportive making sure everyone comes away feeling stronger and more confident about how they are moving!
-- Joanna Fitzjarrald
Leave Best Exercise Ball Workout and find out more about Pilates exercises and free articles here.
Apr 23, 20 06:20 PM

It's 2 yrs.post op since I had total knee replacement in both knees. In order for them to last it's recommended that you lift not more than 25 lbs. Pilates

Aug 11, 17 12:29 AM

Dear Jennifer, I just wanted to reach out and thank you for dramatically improving and changing my life. About a year ago, I woke up in debilitating

Jul 12, 17 06:44 PM

Hi, I had a total right hip replacement 8 months ago; I rehabbed really quickly, although I was also (and still am) dealing with L4 spondylolisthesis.