Pilates Crisscross to Work the Waistline!

The Pilates CrissCross is my favorite Pilates move to work the oblique abdominal muscles at the waist. In effect, it is a "waist widdler"!
It is very effective if done correctly and can challenge even the most in shape of people.
Most of my students love to hate this Pilates move as they know how hard it is yet good for them to practice.
Pilates Crisscross

Position for the CrissCross:
Lying on your back with your knees up in tabletop position or at a 90 and 90 to the floor.
Lift the head and shoulders off the mat in a head float position using the abdominals to support the head.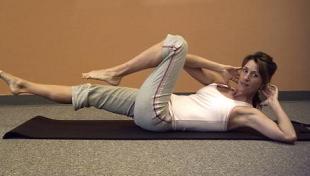 Clasp your hands at the base of your skull with elbows wide. Draw the shoulder blades together and slide them down to keep the elbows out and from pulling on your neck.
Keeping your elbows wide helps to stretch the sides of the torso and keep it elongated throughout this Pilates exercise for better oblique abdominal activation.
Movement:
Extend one leg as you bend the other drawing your elbow to the outside of the opposite knee. Inhale and exhale as you repeat the exercise for 8-10 repetitions.
Below I am doing the Crisscross with an exercise ball, find more of my exercise ball moves here.

Tips:
Be sure to do the CrissCross moving from the chest and ribs, keeping the hips and your lower half still, and not pulling on the neck and head as you turn.
-Reach one elbow to the opposite knee as the other reaches to the floor.
-When you start to lose your form you're done!
-Enjoy this Pilates move and work up to more repetitions as you get stronger and then hold the stretches to each side longer to increase the activation of the oblique abdominal muscles.
Check out more of this and over 40 other exercises in the new Pilates ebook available here.
Check out all of the Exercise of the Month Moves!
Apr 23, 20 06:20 PM

It's 2 yrs.post op since I had total knee replacement in both knees. In order for them to last it's recommended that you lift not more than 25 lbs. Pilates

Aug 11, 17 12:29 AM

Dear Jennifer, I just wanted to reach out and thank you for dramatically improving and changing my life. About a year ago, I woke up in debilitating

Jul 12, 17 06:44 PM

Hi, I had a total right hip replacement 8 months ago; I rehabbed really quickly, although I was also (and still am) dealing with L4 spondylolisthesis.