Is Pilates Safe During Pregnancy?

Congratulations! You are pregnant and wondering is Pilates safe during pregnancy?
I can tell you from the experience of a Pilates Instructor who had a baby at age 39, that yes it is and I am living proof!

I had a great time practicing my Pilates, mostly on a ball, during the second half of my pregnancy anyway, and my little Kate loved it too and still does.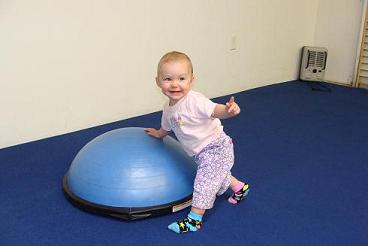 Let me tell you one thing, you will have a very happy active child if you stay active during pregnancy. She has great balance and loves to bounce on the ball.
I put together some of my favorite ball exercises I did during pregnancy here for you.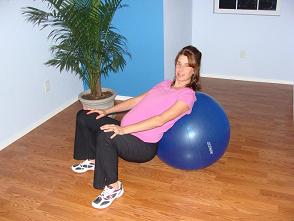 Most of the research out there has focused on the benefits of cardiovascular exercise. This research, of course is important, but along with a good stretching and strengthening program, of which Pilates exercise is a perfect combination of both in a low impact setting.
This research also indicates that the right combination of physical activity benefits both mom and baby.
Some of these benefits include:
Prevention or treatment of gestational diabetes

Increase muscle strength and endurance

Reduced fatigue

Improved mood and well being

Shorter labors and faster recovery times

Babies improved stress tolerance

Babies gain appropriate amounts of weight and generally leaner in childhood.
So, if you are still wondering is Pilates safe during pregnancy just take a look at some of the benefits Pilates can offer you.
Spinal and pelvic girdle stabilization for decreased back pain.

Whole-body stretching and strengthening exercises.

Increase abdominal and pelvic floor muscle strength to assist in quicker labor.

Improved posture, balance, and overall coordination.

Social interaction in a class setting.

When I consider some of the many exercises and Pilates safety during pregnancy there are definitely certain positions that need to be modified throughout the pregnancy.
Is Pilates safe during exercise in the prone position (belly down) such as spinal extensions, swimming, etc?
No!
These exercises should be avoided especially toward the end of the first trimester and after due to pressure on the abdomen.
Is Pilates safe during exercise in the supine position (lying on your back)?
No!
These exercises are discouraged after the first trimester or between 14 and 16 weeks gestation.
Prenatal Pilates exercises can be performed safely in these positions:
Standing, kneeling, seated, side-lying, on all-fours, and in a semi-supine position.
Exercise in these positions should be modified as needed and make sure to change positions frequently.
Leave Is Pilates Safe During Pregnancy and find out more ways Pilates can benefit you.
Mar 21, 17 12:06 AM

Dear Jennifer, I was wondering if there is something that Pilates could do for a bunion. A friend sent me your youtube link, and it is really wonderful.

Jun 22, 16 02:08 PM

Pilates glute exercises to beef up your buns and end your back pain.

Jun 08, 16 02:28 PM

My favorite sciatic pain exercises to stop and avoid it for good! Balance your muscles, fix your posture, and strengthen the legs to help with back pain.