Find a Pilates Exercise Picture for Your Ability!

A good Pilates Exercise Picture comes with a description of the exercise that is clear, concise, and easy to follow. The cueing should come with imagery that you can relate to real life.
Check out the pictures and descriptions below and read about how you can progress through the movements safely and efficiently to get the optimal benefit out of each exercise.
Beginner Level Pilates Exercise: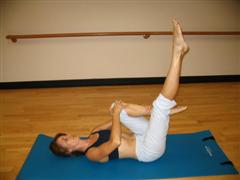 This Pilates exercise picture was taken to teach you to first perform this classic Pilates movement in the easiest position.
This basic Pilates move is shown with your head down and keeping your back flat against the mat while you focus on the arm and leg movements with the breath work first.
Your outside hand should reach for your ankle and the hand coming across the body reaches for the bent knee to keep proper alignment of the knee and hip.
Alternate the arms and legs while breathing in and out each time for 8-10 repetitions.
Intermediate Level Pilates Exercise: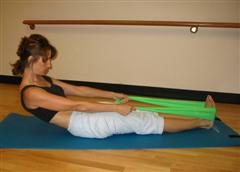 This Classic Pilates exercise is designed to teach you to move slowly through the rollup exercise articulating the spine by using your deep abs.
The band can be used as extra support to help you control the roll up and down the mat until you are strong enough to do so without it.
Exhale as you roll down the mat controlling the peel of your spine. Inhale as you stretch at the bottom and then exhale to gradually peel the spine off the mat with the head coming first. Repeat for 6 repetitions.
Advanced Level Pilates Exercise Picture: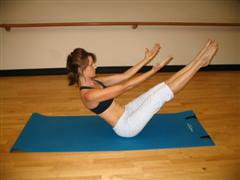 This exercise pictured is at the most difficult level and is one of the most photographed of the Pilates exercises. It is very challenging to do this exercise precisely and with optimal control.
Inhale as you lie flat on your back with arms and legs long, then exhale as you nod your head scooping out your abdominals bringing your arms and legs up at the same time until you are in a "V" Sit position as shown.
Inhale at the top and then exhale as you peel yourself back down the mat coming to the starting position.
Repeat for 4-6 repetitions.
Find over 15 different Pilates exercises and over 60 printable Pilates exercise photos of these and the others with all levels, modifications, and variations for everyone to get started no matter what your fitness level.
Apr 23, 20 06:20 PM

It's 2 yrs.post op since I had total knee replacement in both knees. In order for them to last it's recommended that you lift not more than 25 lbs. Pilates

Aug 11, 17 12:29 AM

Dear Jennifer, I just wanted to reach out and thank you for dramatically improving and changing my life. About a year ago, I woke up in debilitating

Jul 12, 17 06:44 PM

Hi, I had a total right hip replacement 8 months ago; I rehabbed really quickly, although I was also (and still am) dealing with L4 spondylolisthesis.