Hip Bridge Exercise
The hip bridge exercise is one of the best Pilates exercises for strengthening the whole pelvic girdle as well as the abs, glutes, and hamstrings.
This hip raise exercise or "bridge" as some would refer to it is an exercise that I always begin my classes with whether on the mat or on the Pilates equipment.
This is a good warm up exercise because it helps to open and articulate the vertebrae of the spine, while simultaneously working the deep pelvic floor, gluteal, and hamstring muscles.
It wakes up all the bones and joints and gets the cerebral spinal fluids flowing so the student feels alive and is energized for the rest of the workout.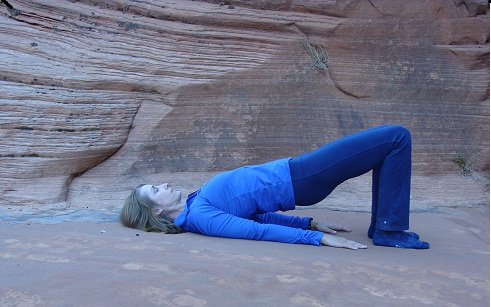 Begin this hip bridge exercise lying on your back with your arms long at your side, as shown above, and your feet directly under your knees, closer than hip width apart, but not touching.
Inhale to feel the length in your spine and then exhale as you melt your ribs into the mat pressing into your feet as you lift your hips off the mat.
As you come up feel the weight pressed evenly into your feet and shoulder blades. Inhale at the top feeling a stretch through your quadriceps at the top, and then exhale as you peel your spine down the mat from the top one vertebra at a time.
Repeat for 8-10 repetitions feeling more opening and articulation in the spine each time.
See more of the Pilates bridge on my video from this page.
Variations to this Hip Raise Exercise: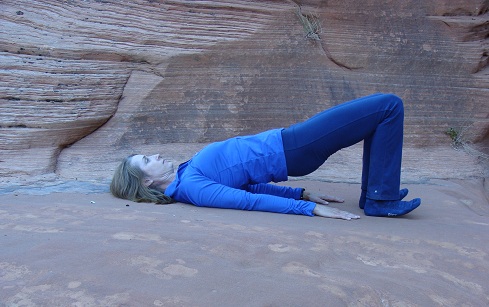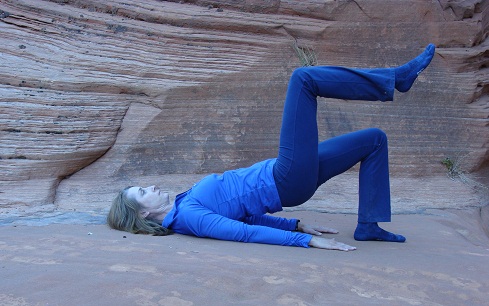 Toe Lifts:
Keeping your hips lifted and level at the top begin tapping your toes one by one.
Heel Lifts:
Keeping hips lifted and level begin tapping your heels one by one.
Marching:
At the top of your hip bridge press in to one foot and keeping the hips level raise the leg up to a table top position as shown.
Switch and repeat for 4-6 marches.
Hip Raise Exercise with Back Support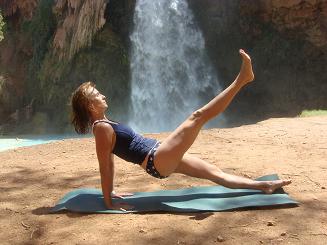 This Pilates hip exercise is more challenging and should only be attempted after doing the above with no hip pain after exercise.
Begin sitting with your arms behind you and your legs extended out in front of you.
Inhale to prepare and then exhale as you lengthen your spine, lifting your chest to the sky and lengthening your legs and tightening your hips until they lift up off the mat.
Inhale to hold the position and then exhale as you slowly lower the hips back to the mat. The version shown here is with a leg lift, you may do it with or without raising the leg at the top.

Repeat this hip bridge exercise for up to 6 repetitions.
Leave hip bridge exercise and find more ways to strengthen your hips here.
Apr 23, 20 06:20 PM

It's 2 yrs.post op since I had total knee replacement in both knees. In order for them to last it's recommended that you lift not more than 25 lbs. Pilates

Aug 11, 17 12:29 AM

Dear Jennifer, I just wanted to reach out and thank you for dramatically improving and changing my life. About a year ago, I woke up in debilitating

Jul 12, 17 06:44 PM

Hi, I had a total right hip replacement 8 months ago; I rehabbed really quickly, although I was also (and still am) dealing with L4 spondylolisthesis.