Foot Exercise Machine for Flat Feet
Pilates developed a foot exercise machine that is my go to machine for any type of foot condition.
Because of my own flat feet the foot corrector has helped me and is also a good exercise for foot drop.
The foot corrector is set up like a saddle on springs to help arc up the arch of your foot while simultaneously stretching the top of the foot and toes.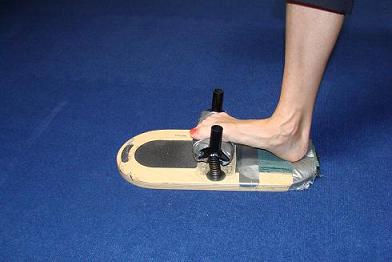 Most of my students even say they are getting a great calf stretch at the same time.
I have this one padded and taped up for tender and delicate feet, as you can see!
This flat foot exercise machine actually works the feet and corrects muscle imbalances up the legs and into the hips and pelvis.
I know, because I was having pain in one of my hips and after using the foot corrector and strengthening the fallen arch that had flattened even more, my hip pain miraculously went away!
Look at my happy arched up foot now!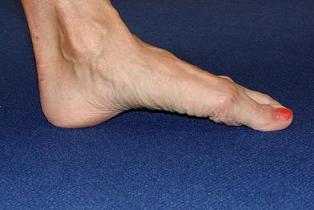 This exercise machine for the feet works by placing your heel flat on the bottom surface and then wrapping all 5 toes, down to the joint around the saddle.
Begin grabbing the saddle with your toes like the fingers of your hand would and then pull your toes up. Grab and release up to 30 times or until you feel some fatigue.
Brace yourself so you only use your feet and not by rocking your body as you go.
Another way to practice this exercise for feet, if you do not have a foot corrector machine, is to use a tennis ball or another of that size and mimic this exercise grabbing and releasing the ball with your toes as shown here.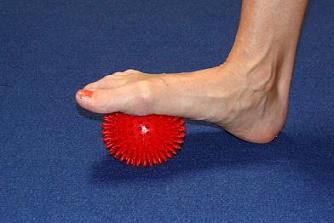 Make sure the whole ball of the foot, and all of the toes joints are able to wrap around the top of the ball.
This exercise feels great at the end of a day. With our feet shoved into a virtual cast (shoes) all day long, doing this exercise really helps to wake them up by articulating the toes or allowing them to spread out and stretch.
Find more ways to do foot exercise that help to stretch and strengthen your feet here.
Apr 23, 20 06:20 PM

It's 2 yrs.post op since I had total knee replacement in both knees. In order for them to last it's recommended that you lift not more than 25 lbs. Pilates

Aug 11, 17 12:29 AM

Dear Jennifer, I just wanted to reach out and thank you for dramatically improving and changing my life. About a year ago, I woke up in debilitating

Jul 12, 17 06:44 PM

Hi, I had a total right hip replacement 8 months ago; I rehabbed really quickly, although I was also (and still am) dealing with L4 spondylolisthesis.