My Favorite Core Balance Exercises:
Pilates Open Leg Rocker

As far as Core Balance Exercises go the Pilates Open Leg Rocker is one of the most challenging and beautiful exercises.
I love to take my mat along and do a variety of Pilates core stability and balance exercises wherever I go. They definitely keep me on the move.
What a perfect spot I found here in front of Havasu Falls!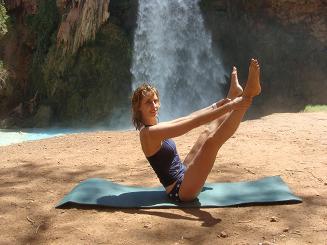 To begin the open leg rocker sit on your mat and find your stability and balance with your knees bent.
1. Grab under your knees and rock back off your sitz bones, but not all the way to the tailbone. Your balance point is somewhere in between the two. Find out more ways to balance here.
2. Once you are balanced with your feet up press the back of your legs into your hands so you feel your lower abdominals or pelvis hollow out.
3. Feel your chest open and wide as you draw your shoulder blades down and towards your spine. This is done as you press the backs of your legs into your hands again. Keep looking down and hollowing your pelvis.
4. Now, extend one leg at a time reaching for your ankles to balance if you are able. You can also just keep holding behind your knees if your hamstrings are tight.
5. Exhale as you begin rolling back by reaching your waist for the mat not your head! Keep your chin down and gaze at your tummy.

6. Roll back just to your shoulders blades and then press the back of your legs into your hands to roll back up to a balance with an inhale.
7. You may notice your pelvis rocks or tilts forward a bit when you roll up. Hollow it out and then repeat again by reaching your low back for the mat with an exhale.
8. Repeat this core balance exercise for 4-6 repetitions with straight or bent legs. You may just want to practice the core balance starting position without rolling to begin with as it is challenging in itself.
Find more of my Pilates favorites and core balance exercises of the month here.

Apr 23, 20 06:20 PM

It's 2 yrs.post op since I had total knee replacement in both knees. In order for them to last it's recommended that you lift not more than 25 lbs. Pilates

Aug 11, 17 12:29 AM

Dear Jennifer, I just wanted to reach out and thank you for dramatically improving and changing my life. About a year ago, I woke up in debilitating

Jul 12, 17 06:44 PM

Hi, I had a total right hip replacement 8 months ago; I rehabbed really quickly, although I was also (and still am) dealing with L4 spondylolisthesis.