The Best Exercise For Osteoporosis

Based on current research the following guidelines indicate the best exercise for osteoporosis whether you are at risk for getting it or currently have it:
IMPROVING POSTURE AND, IN TURN, BALANCE AS THE BEST EXERCISE FOR OSTEOPOROSIS:


Some of the best exercise for osteoporosis are those that help to increase core and postural, abdominal and back strengthening exercises.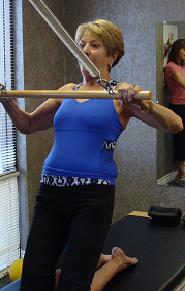 Pilates exercises include this most important component which is postural control... building your back and abdominal strength, such as the exercise shown Lat Pulling exercise.
With these muscles acting as the stabilizing force we can then incorporate other upper and lower body strengthening exercises to insure a proper bone-loading workout to offset the effects of osteoporosis.
Improving our posture through Pilates-based exercise is very important to ward off the detrimental effects of osteoporosis.
Find more bone building exercises for Osteoporosis here.

Best Hip Exercise for Osteoporosis: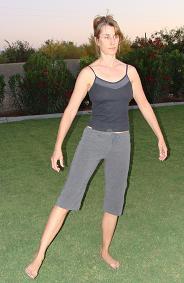 Because our posture contributes to our balance, or lack of, it is very important to choose exercises that will strengthen our core (spinal) musculature.
These exercises  help us stand up straighter and increase our confidence and body awareness while walking or doing other activities of daily living.
Since the most common types of falls and fractures are to the side on the hip, focusing on improving side-to-side balance is critical in reducing these types of falls.
The Standing Hip Abduction exercise shown here does a great job of strengthening the hips.
Strengthening exercises for the Hip Abductors and Adductors should be included as some of the best exercises for building bones.
Which Pilates Exercises are the Best for Osteoporosis?


Pilates requires the muscles to pull along the spine, especially when you are prone or lying on the stomach.
Exercises such as swimming, dart, and breaststroke are performed in the prone position and work to pull and strengthen the muscles along the spine.
The side kick series of Pilates exercises requires the muscles to pull along the femur and hip girdle helping to strengthen these bones.
Pilates works the body in a series of mid-range movements.
Once you learn to control and stabilize in a small or mid-range of motion then you can progress into a larger range always challenging the body to work beyond what you thought possible. But, within safe and healthy limits.
What Exercises or Positions Should be Avoided?
When performing Pilates exercises for osteoporosis there are some things to avoid.
AVOID exercises that flex, bend, and twist at the spine.

Specifically flexing the upper or thoracic area of the spine.
Neutral spine and doing exercises in spinal extension are appropriate and assist in bone loading safely for the spine.
Leave best exercise for osteoporosis and check out the Pilates ebook available here to find out how to get started with your bone building exercises today.
Apr 23, 20 06:20 PM

It's 2 yrs.post op since I had total knee replacement in both knees. In order for them to last it's recommended that you lift not more than 25 lbs. Pilates

Aug 11, 17 12:29 AM

Dear Jennifer, I just wanted to reach out and thank you for dramatically improving and changing my life. About a year ago, I woke up in debilitating

Jul 12, 17 06:44 PM

Hi, I had a total right hip replacement 8 months ago; I rehabbed really quickly, although I was also (and still am) dealing with L4 spondylolisthesis.