Posture Perfect Pilates Exercises

I spent years trying to get the posture perfect Pilates look. I was looking in the wrong places to begin with, but after I found Pilates it was just a matter of weeks before my posture started to improve.
When you grow up tall and lanky like I did you have this tendency to bend down to be on a level with your friends.
Many of my pictures are of me slouched down to be at the same height of my shorter friends and family in the picture.
Unfortunately, hunching over like this makes your abdomen protrude, not very attractive!
This is me now with the posture perfect Pilates look.

An easy way to improve your posture temporarily is to stand with your chest high and lifted. This helps to bring your head back, ears over shoulders, over hips.
Or....working from the feet up;
Lift the arches in your feet by grabbing the ground with your toes, this helps to lengthen your legs.
Then, imagine you are scooping your abs or zipping them up and in from the pubic bone right up under your ribs.
That helps to lift your chest, bringing your shoulder blades down, and aligning your head right over your shoulders.
Posture Perfect!
Now....for some of my favorite long term posture perfect Pilates exercises below.

Pulling Exercises to Improve Posture:
Pulling exercises are great at strengthening the muscles of the upper and middle back while simultaneously stretching and opening the tight muscles of the chest in your front.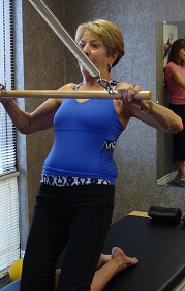 This is Winnie doing Lat pulls on the cadillac. Notice how she is hinged back to keep her chest open as she uses the muscles of her upper and middle back to pull the bar to her chest.

Side Bending Exercises to Improve Posture:
These Posture exercises are perfect for stretching the muscles on the side of our spine and waist that help to open and create space in our midsection.
This is me doing the mermaid on the reformer. As you push off the foot bar with one hand you want to bend from the upper spine or ribcage to really stretch the waist.

Pilates Mat Exercises in a Prone Position:
These exercises lying belly down work to extend the spine or lengthen it from the front while working on the deep supporting muscles of our spines.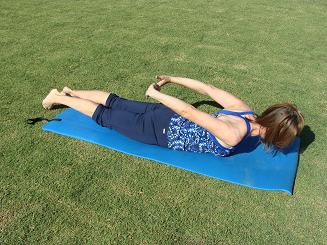 This is one of my favorite mat exercises for better posture. Keep your feet grounded as you lift your head and chest off the mat reaching your arms up off your back and down to open the spine.
Find more ways to work the upper back on the mat here.
Try these Posture Perfect Pilates exercises several times a week to look and feel like the tallest person you can be. No slouching allowed!
Leave posture perfect Pilates and get started with action today with my Pilates Ebook for Healthy Back and Joints.

Mar 21, 17 12:06 AM

Dear Jennifer, I was wondering if there is something that Pilates could do for a bunion. A friend sent me your youtube link, and it is really wonderful.

Jun 22, 16 02:08 PM

Pilates glute exercises to beef up your buns and end your back pain.

Jun 08, 16 02:28 PM

My favorite sciatic pain exercises to stop and avoid it for good! Balance your muscles, fix your posture, and strengthen the legs to help with back pain.